The Neurofeedback Solution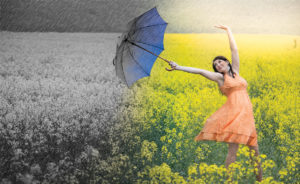 Our brain determines our emotional states, our perception, and our reactions to the world around us. How we react to events directly affects the resilience of every system in our bodies; strengthening or weakening our ability to repair, regulate, and resist disease. This is why so many physical and emotional conditions stem from the mind and brain, and why training it into smoother function is so important.
Anxiety, depression, insomnia, concussions, PTSD, memory, focus, Autism; we do not view these as diagnostic things to treat, but as reflections of brain dysregulation.
The brain is capable of tremendous and miraculous change (see neuroplasticity). By eliminating uncomfortable patterns and restoring the system to balance, optimum function can be restored and the secondary symptoms naturally fade away.
If you are experiencing difficulties in your life – with staying focused or being organized and on top of things, with your sleep quality, your mood, with fears or worries or anxiety, with learning or difficult behavior, with social or close personal relationships, with trauma or other emotional or brain-related problems, neurofeedback may be the right choice for you.
Resist the message that nothing can be done, and discover what neurofeedback brain training has to offer.
Contact our office for a complimentary consultation and demonstration at (828) 885-7100
A Diagram of the Brain and What it Does: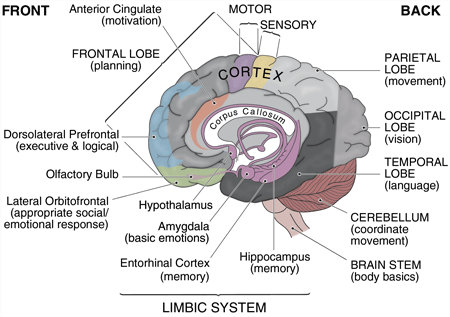 The Frontal Lobe

is the most recently-evolved part of the brain and the last to develop in young adulthood. It's dorso-lateral prefrontal circuit is the brain's top executive. It organizes responses to complex problems, plans steps to an objective, searches memory for relevant experience, adapts strategies to accommodate new data, guides behavior with verbal skills and houses working memory. Its orbitofrontal circuit manages emotional impulses in socially appropriate ways for productive behaviors including empathy, altruism, interpretation of facial expressions. Stroke in this area typically releases foul language and fatuous behavior patterns.

THALAMUS:

Located at the top of the brain stem, the thalamus acts as a two-way relay station, sorting, processing, and directing signals from the spinal cord and mid-brain structures up to the cerebrum, and, conversely, from the cerebrum down the spinal cord to the nervous system.